5 Proven B2B Lead Gen Hacks to Crush Your Sales Goals
B2B generation is undoubtedly a massive topic that could easily take up a complete series of posts. One of the reasons that make this topic so vast is because almost all marketers today have their favorite stack of lead generation services and strategies to help them generate business wins!
Think about it this way; Leads are the lifeblood of your business, whether big or small, and with a little extra assistance, you can easily reach new prospects and convert them into fruitful business opportunities.
The question is, where do you even start?
Whether you're new to marketing and entrepreneurship or experienced in demand generation, we've put together a curated list of top 5 B2B lead generation hacks for 2020 for you to leverage.
Grab these strategies and put them to use. They will not only improve your business efficiency but also unlock valuable sales potential.
RUN VALUE ADDED WEBINARS
Webinars are one of the most effective lead-gen initiatives you can do within the competitive B2B marketplace. According to the latest surveys, approx. 20-40% of the webinars conclude into effective lead generation.
Thinking of running a webinar in your niche? Make sure to keep it short, concise, and valuable to your audience. Talking on a well-defined single topic will save your time as well.
There's no lack of great webinar solutions. Here are my picks for the best webinar software and platforms for 2020.
WebinarJam
EverWebinar
Easy Webinar
Demio
WebinarNinja
ClickFunnels
GetResponse
GoToWebinar
Webinar Ignition
Crowdcast
ClickMeeting
Kajabi
BigMarker
Zoom Meetings & Zoom Webinars
Adobe Connect
Livestream
AnyMeeting
Webex
DaCast
Livestorm
Zoho Webinars
Youtube Live
Facebook Live
Instagram Live (IG TV)
For most marketers, webinars are a one-trick pony: run the webinar , capture leads, follow up on, and then you're done.
Right? Not exactly. As more webinar platforms provide users the ability to download a recorded version of the webinar, marketers are realizing that webinars are an excellent evergreen asset.
Recorded webinars offer a really great benefit that many marketers overlook: They extend the lifespan of your content marketing strategies, so you can repurpose and continue to promote it. Webinars take planning, and you promote the heck out of them to build your live audience. Continue to do that with the recording!
You can even request the same lead information: name, email, job title, and anything else. SWEET!
USE YOUR 'ABOUT US' AS A LEAD GEN PAGE
One of the most significant ways of converting your traffic into fruitful leads is to tweak your 'About us' page into a landing page. With this, your visitors are going to attain the options directly taking them to the contact info section with no hassle.
You should never forget to place a 'call to action' button on your 'About us' page hailing with a core message. These should be strong enough to attract a huge chunk of your website visitors. Such messages include discounts, free PDF, or an eBook, or anything that your target audience would love!
REPLACE FORMS WITH LEAD GENERATION BOTS
Lead generation through chatbots delivers a new and automated way of filling forms. Lead generation can become quite a challenge with lengthy form filling, limiting the rates of conversion to 2.5% to 5%.
With their ability to guide customers through the marketing funnel, keep people engaged after sales all the while adding personality to a company's brand, AI chatbots add new value to brands' content marketing.
Here are 11 of our top chatbot platforms.
Botscrew
Chatfuel
MobileMonkey
Aivo
ItsAlive
Imperson
Pandorabots
Bold360
Meya AI
ManyChat
Botsify
Chatbots works as an automated tool used to connect marketers with customers. Pairing chatbots to lead generation forms can boost up the data collection process.
The chatbot tool is a structured questionnaire with pre-made qualifying questions and pre-set options to choose from. Visitors can choose the most relevant questions to them and fill in their email address. This limits the scope of data to restrict unnecessary stuffing of information.
Let's assume you have a visitor on your contact page who filled out a form, but, for some reason, didn't submit it. That' a perfect opportunity for a chatbot to engage with them and help with their issues, answer their questions, or collect a lead. Awesome, isn't it? Again, you get the most out of your contact form and make it rain money!
MAKE YOUR FORMS EASY SUPER EASY TO FILL OUT
Lead capture forms should play an indispensable role in elevating your leads. After studying and testing hundreds of lead capture forms, here are the qualities that make them successful
need to be short and relevant. they should contain the minimum anoint of fields necessary. Don't capture what you won't use.
Its elements should keep the user's perspective in mind. These include using the radio buttons, and the inline error notifications.
The form should come inclusive of the 'required' and 'optional' field for the customers who are interested in filling up their additional information.
EXIT INTENT POP-UPS ARE A MUST
Despite what some may believe, data proves that exit popups work well. Exit-intent popups allow you to as they intend to leave your site. By detecting when someone is about to leave your site, you can show the visitor one final message (in a lightbox popup overlay) right at that pivotal moment. One of our go-to popup solutions is Poptin.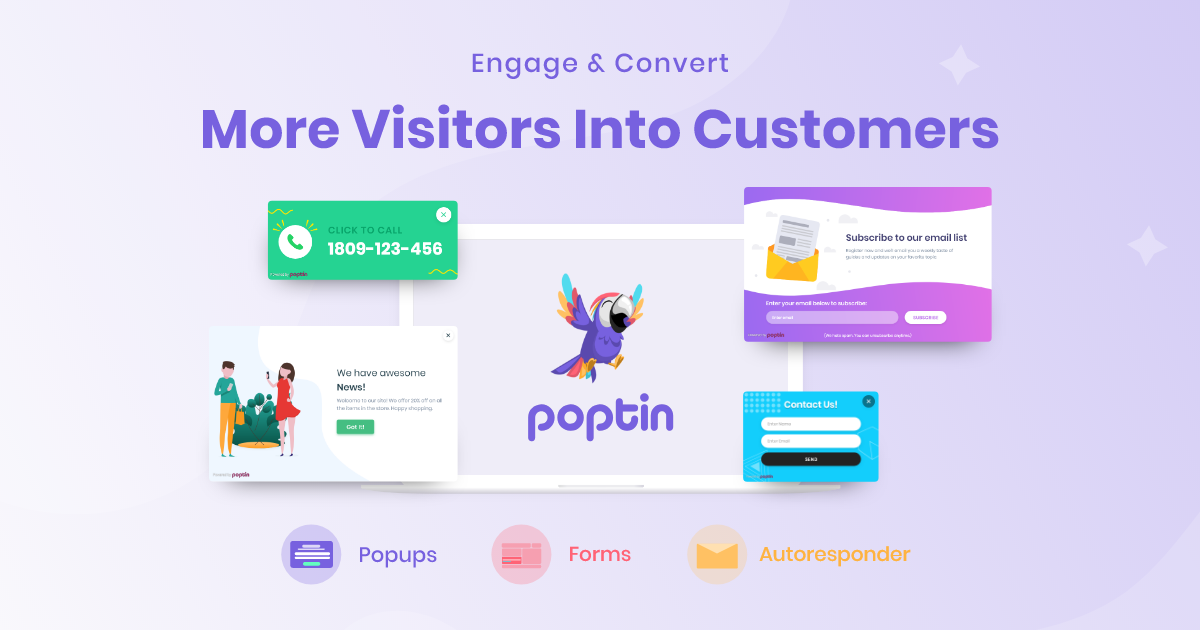 Even if your exit popup does annoy the occasional visitor, they were about to head out anyway right? There's no harm in trying to get their attention before they've got the door closed. In fact, you could recover 53% of abandoning visitors by utilizing the right exit-intent popup solution.
Creating a successful lead generation strategy is definitely possible if you try and test out the tactics mentioned above. To cultivate leads, you must focus on data-driven content, and data can be gathered from the moment visitors land on your website until they leave.